Hand picked from around the country. The Roadshow speakers and staff are some of the best and most successful mobile whitetail hunters anywhere. Time tested with a track record or consistent year after year success. Our Speakers are specifically chosen based on event region so they can present on relevant tactics, history, and strategy applicable to that shows attendees.
CODY D'ACQUISTO - Iowa
Born into the world of Bowhunting for Whitetails and a mobile hunter to the core. Cody works in the hunting industry designing and producing products for the hunter who wishes to be much more mobile in their pursuit for whitetails. His style and tactics have proven more than effective resulting in over 30 trophy whitetails with a bow in the past 17 years.
JACOB LISHEN - North Carolina
An eastern bowhunter who spends his time chasing whitetails between the Carolinas, and a mix of Bluegrass states, Jacob is constantly testing new strategies in a wide range of big woods environments. Applying the mobile handbook to everything from mountains to swamps and pine thickets, his strategy is built around breaking down large pressured properties to find bucks in small overlooked hot spots.
Michael Varardy - New Jersey
Michael grew up hunting and fishing in Monmouth County, New Jersey, and at 22 years old he became obsessed with bow hunting. Within his first two years of bow hunting Michael learned to be mobile and adapt to his surroundings. Not wanting to be patterned by whitetails (or by other hunters), Michael leaves nothing behind and hangs his stand each hunt depending on the insight he gains from his scout/hunt technique, This has brought him great success, harvesting over 10+ P&Y whitetails, as well as a few that were just fun hunts along the way. Michael has harvested 8 mature bucks since shooting traditional exclusively for the past four years. Living in an urban area, LWCG has aided in many successful hunts for someone who relies on the sneak attack and close shots.
 Brian Thacker - Virginia 
Brian was born and raised in the small town of Manassas, Virginia where he started bow hunting at 14 years old back in the early 80's. He learned his wordsmanship and ethics from his uncle and grandfather. Brian is a father of 2 boys and husband to his high school sweetheart, so finding time to hunt while supporting his family has always been a challenge. Brian learned quickly that the Mobile style hunting helped him to outwit big bucks by reducing the human presence in core areas. Also, the fundamentals he learned over the years and adapting to the environment changes has also helped to increase his luck and success . Brian has been bowhunting now for 40 years and has taken over 15 Pope and young bucks with his largest buck scoring in at 168" Boone & Crocket points. Brian always says," It's the attention to the details that will eventually help to increase a hunter's luck".
JUSTIN HOLLANDSWORTH - Ohio
Justin learned the basics of woodsmanship from his grandfather, a traditional  archer back in the mid 1980s and has been chasing whitetails for 30plus years. In the early 2000's hungry to take his hunting to a new level, Justin started running Lone Wolf products and befriended Andrae D'Acquisto who taught him the "mobile Style" Using these tactics and a DIY style of his own Justin has harvested 25 bucks over 125" with his bow.



ANDRAE DACQUISTO - Iowa
Wisconsin native and the original founder and designer of Lone Wolf Portable Treestands, Andrae D'Acquisto may be the most influential name in Bowhunting for Whitetails ever. 17 official Boone and Crocket whitetails, 3 over 200 inches Andrae once held both the #2 and #3 all-time typical bow kill in the state of Wisconsin at the same time. Not only an accomplished hunter, Andrae single-handedly revolutionized portable treestand design back in the early '90s and has led the category in innovation for over 35 years. To this day there is not one treestand company on the market that doesn't use the technology he designed.
KEVIN MERROW - Pennsylvania 
Kevin is a traditional bowhunter who loves to chase whitetails in his home state of Pennsylvania. He is the founder of Tradgeeks.com and host of the Tradgeeks podcast. Kevin has been bowhunting for 20 years and has hunted primarily with mobile tree stands since the beginning.
KEVIN BOULDER - Wisconsin
Born and raised in the north woods of Wisconsin, Kevin has been hunting, fishing, and trapping for most of his life. He cut his teeth primarily hunting big woods, and swamps. In recent years he's also had success traveling to the hill country of western Wisconsin, and out of state. Kevin believes that mobility, and the art of reading sign with in season scouting, are the biggest keys to constant success in the whitetail woods.
TYLER TUTTEROW - Indiana
Undertaker, father, Husband. Hunting since age 7 and Bowhunting since 2003 Tyler adopted a much more mobile hunting style to seal the deal on bucks in big timber back in 2005. With the first official ambush platform kill, Tyler has had much success hunting from a traditional saddle setup but has recently adopted running a hybrid setup combination consisting of a DS.5 and saddle harness. 
GARRETT BENNER - Maryland 
Garrett, aka "The Modern Assassin" has long been addicted to bowhunting for whitetails. Never has he stopped experimenting on ways to be more efficient. Always doing things a bit differently, implementing his own techniques and honing in on different  tactics. Knowing from early on the value of being in the right spot with a stealthy approach Garrett always relied heavily on his treestand setup. From climbers to saddle platforms, to lightweight hang-ons consistently taking down east coast whitetails. 
ZACK ROBB - Virginia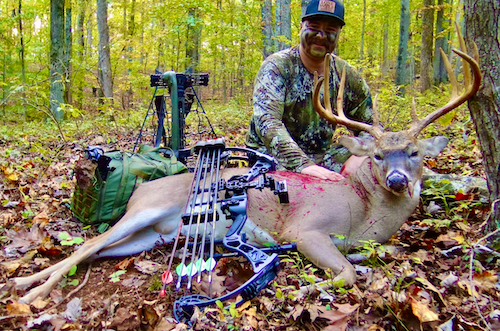 Born and raised in the Virginia mountains, Zack Robb has always been involved in the outdoors and once fall hits the pursuit of whitetails consumes him. Having taken several trophy VA deer with black powder and a rifle, his focus has now honed in on killing mature VA bucks with his bow. With a strategy based on staying mobile and focusing on target bucks bedding, he has proven success throughout the years.
TIM KOCHER - Pennsylvania 
Born and raised in Bloomsburg, Pa with a heavy hunting family has recently adopted a nomadic approach of bow hunting. Always working in the field to design and create the most out of a overgrown Christmas tree farm to increase the odds of a mobile hunting style. 
JUSTIN SYNAN - Kentucky
Born and raised in Carroll County MD, Justin moved to Kentucky in pursuit of bigger bucks and freedom of the rat race. An avid bowhunter for 14 years, Justin has always adapted a more mobile style of hunting. Started with climbers early on, and then transferring to hang ons and sticks. Self filming for 5 years and a member of the Whitetail Addictions team, Justin believes that scouting is much more important than actually hunting and has a lot of success to show for it. 
BOBBY EDWARDS- South Carolina
Bobby Edwards is a Military Combat veteran with a passion for both hunting and giving back to those who served. Bobby founded a non profit organization "For His Glory Outdoors" with a mission to heal our nation's combat veterans through exposure in the great outdoors. Bobby has been hunting since the age of 14. Growing up with a slug gun in his hand he made the switch to strictly bow hunting in 2010. In 2017 Bobby made the switch to a more aggressive mobile hunting style and never looked back. Primarily hunting his home state of South Carolina on both private and public, Bobby believes there is no substitute for a good mobile setup. Much like the army, he likes his equipment flawless and this drive and detail is a proven recipe for success year after year. 
MIKE PERRY - Pennsylvania 
Mike Has been bowhunting the Public lands of northwestern Pennsylvania since the mid 1980's. Primarily focusing on flat farmland, or big swamps and marshes with abundant water. Mike consistently harvests mature whitetails where most come up empty handed.
TORREY OWENS - Michigan
Torrey started hunting some heavily pressured permission properties in upstate New York. After relocating to Michigan, his main goal was to consistently harvest the best deer possible from the smallest parcels to vast public land tracts. After grinding it out for a couple of years to get the upper hand on pressured Michigan whitetails, Torrey found that the more "mobile" he got, the more success he had. Now adapting a 100% mobile philosophy, Torrey primarily hunts from a saddle and platform and has been working closely with Lone Wolf Custom Gear on the development of the new Fix platform.
DAVID MILLER - West Virginia
David has spent a large portion of his life chasing whitetail deer and other wild game through the rugged mountains of West Virginia. David believes targeting individual deer in unforgiving regions of the Appalachian Mountain Range calls for extreme focus within every part of the process, from mapping to gear; because these mountains will test both skill and equipment. While successfully harvesting many giant mountain whitetails, David equally enjoy hunting with his wife and friends, as well as mentoring his daughter to pass on the heritage of archery hunting. David believes that sharing the elements of knowledge, heritage and stewardship of our resources as hunters, makes the process truly come full circle.
HEATH CISCO - Ohio
Born and raised in Southern Ohio where he started hunting at an early age. By the time he was 18 he set his sights on taking bucks with a minimum score of 125 inches. Success was hard to come by, in the beginning, using traditional whitetail bowhunting tactics. That all changed when he went against the hunting norm, became mobile, and got aggressive in his pursuit! 
NATHAN SANDERS -West Virginia 
Nathan Sanders is no stranger to the Whitetail Game! He has been at it for 36 years! 30 of which has been spent bowhunting. Nathan utilizes both pre-hung sets and mobile tactics in his pursuits and has taken 18 pope and young bucks in the past 19 years. Nathan spends most of his time in the southeastern Ohio region but has Hunted 10 different states, including Canada.
JOSH KRSTIC -Wisconsin
Tattoo artist by trade. Josh Krstic started hunting at a young age and honed his skills in the vast north woods of Wisconsin. Concentrating solely on bow hunting to get closer to bigger deer. Over the years Josh has continued to adapted and apply aggressive scouting tactics allowing him to be successful from the big woods to the farm lands harvesting mature bucks Year after year.
KRSTAN GREEN - Michigan
Michigan native and a Lineman by trade. Kristian is an avid bowhunter and Veteran. He got into hunting at about 14 years and after killing his first deer at age 16, he was hooked. Obsessed with finding out everything he could about whitetails and their needs, Krstan hunted hard for many years. As time passed he adapted more and more of a "mobile hunters mindset" and has consistently had success in multiple states. 
DIETER KOCHAN - Michigan
A K9 handler with the Michigan State Police by trade and spending a lot of time training in wooded environments. Dieter has been bowhunting the vast big woods of Michigans upper peninsula for over 30 years. Forced to adapt a mobile strategy since day one he found great success with the saddle style of hunting and has been consistently harvesting bucks in and out of state for the last 16 years.
 JORDAN POPE - Alabama
A union plumber by trade, Jordan Pope enjoys nothing more than hunting the mixed foliage mountain terrain that his home in Northern Alabama has to offer. Without a real mentor, Jordan began chasing whitetails at the age of 15 where he early on adapted the philosophy to "let the whitetails teach him". Jordans believes a lightweight mobile setup and being as active in the woods as possible is key to his public land success.  
ABRAM DEAN - Tennessee 
Abram is a day to day professional songwriter based out of Nashville Tennessee. When he isn't in the studio writing songs, there's a good chance he is doing something to feed his addiction of bowhunting whitetails. Hunting states like Illinois and Tennessee, Abram has found success hunting farmland, hill country and the suburbs. Since applying aggressive "mobile hunting" tactics only four short years ago, he has tagged 7 Pope & Young whitetails with his bow.
Nick Turley - Iowa
Nick Turley, resides in Iowa and has been addicted to mobile hunting big whitetails since the mid 2000's. With a true Lone Wolf mentality Nick relies heavily on his mobile gear and has been fortunate to harvest quite a few bucks over the 170" mark with one breaking 200" all with a stick and string!